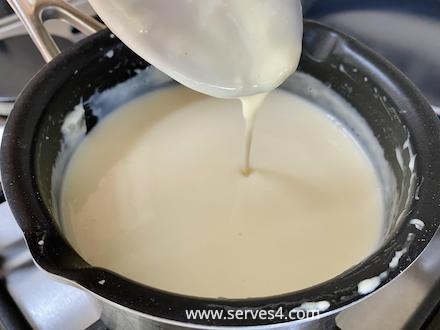 Bechamel white sauce is a thick creamy sauce, sometimes simply called 'white sauce', used in baked dishes such as lasagne, or others requiring a creamy sauce filling. Bechamel is a very simple sauce using only three ingredients, but it can be the base for many other sauces needing a thickened consistency.
Once you have perfected the art of making a smooth and lump free bechamel, you'll have a new world of recipes available to you. The traditional roux method of cooking, where butter and flour are cooked together in a 1:1 ratio, does require a little practice, but you will be rewarded for your perseverance.
The recipe below is for a basic bechamel white sauce, but you could melt in some grated cheese to make a cheese sauce for a baked macaroni cheese. Or stir in some Dijon mustard and chopped parsley and use it for a fish pasta bake. You could even infuse the milk for added flavour, prior to cooking the bechamel, by simmering some bay leaves, peppercorns and onion in the milk.
Bechamel White Sauce
By Wendy | Serves 4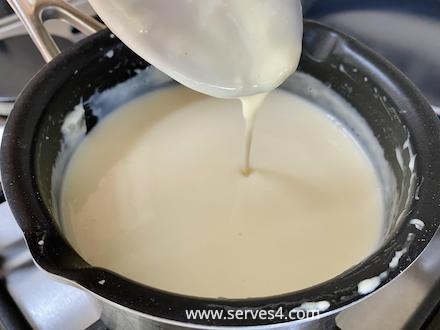 Bechamel (white sauce), is actually quite simple to make, and once you get the hang of it, you can use it in a multitude of recipes.
Prep Time: 3 minutes
Cook time: 15 minutes
Yield: 500ml
Course: Ingredient, Sauce
Cuisine: Modern European
Tags: White Sauce, Creamy Sauce
Ingredients
50g unsalted butter
50g plain flour
600ml milk
Method
Set aside the required amounts of butter, flour and milk.
In a small saucepan, melt the butter over medium heat.
Add the flour and cook for one minute, stirring vigorously until thoroughly combined.
Pour in the milk, a little at a time at first. Continue stirring vigorously until the milk has been fully absorbed before adding more. This is important - if you pour in too much milk initially, the flour mixture cannot absorb it quickly enough and you will end up with a lumpy sauce.
The flour mixture will begin to appear fluffier and slowly, creamier, as more milk is added. Continue stirring, and make sure all the milk is fully incorporated before adding more. You can begin adding more milk at time when the flour mixture begins to take on a smoother and creamier texture.
When all the milk has been incorporated, continue cooking for another 5-7 minutes until the sauce has thickened to the consistency of single cream.
Your bechamel sauce is now ready to be used in your favourite recipe.