Instant Pot: The Best Electric Pressure Cooker
Is the Instant Pot the Best Electric Pressure Cooker?
This page may contain affiliate links, which means we receive a small commission for purchases made using the links. There is no additional cost to you. Please read our full disclosure policy.


If you're looking for the best electric pressure cooker, then read on for our review of the Instant Pot Duo. Instant Pot makes a range of electric multi-cookers that are designed to streamline your life.


As our lives get busier, with increasingly more demands on our time, anything that can save you time in the kitchen when preparing meals is hugely valuable. I personally have an Instant Pot Duo, and its multiple functionalities have made it a huge asset in my kitchen.


If you're looking ways to juggle your busy life with cooking for the family, then an Instant Pot may be the answer you're looking for. See why we think it is the best electric pressure cooker out there.

What makes the Instant Pot Duo the best electric pressure cooker?
The Instant Pot Duo is actually so much more than just an electric pressure cooker. It is a multifunctional cooker that fulfils the functions of 7 appliances, including a pressure cooker, sauté pan, steamer, slow cooker, rice cooker, food warmer, and yogurt maker.


High pressure cooking reduces cook time by 2-6 times and saves up to 70% of energy when compared with traditional cooking methods.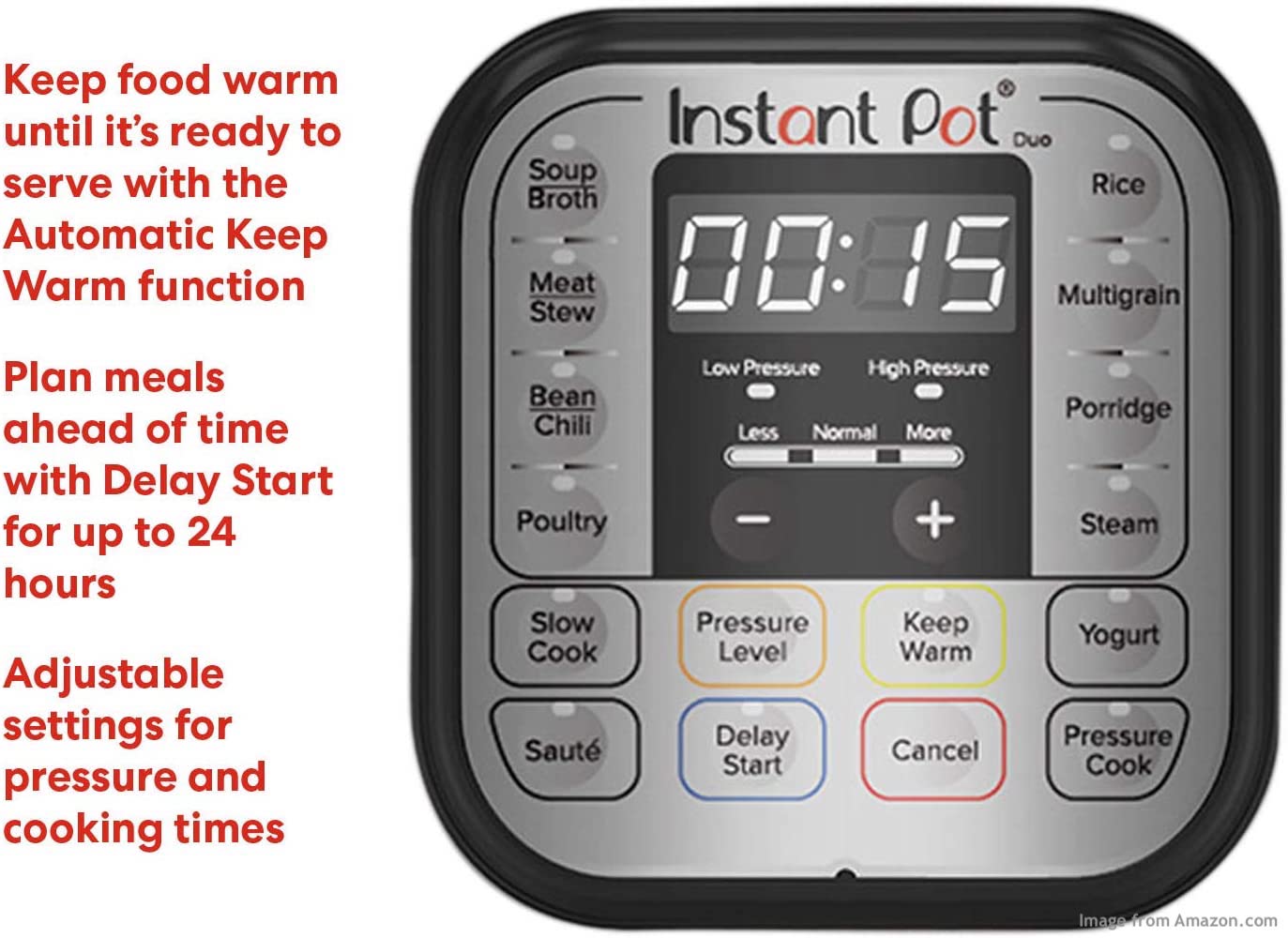 The Instant Pot Duo comes in 3 sizes (3L , 5.7L and 8L) with up to 13 one touch Smart Programs to suit your family's needs. The programmes include Soup/Broth, Meat/Stew, Bean/Chili, Slow Cook, Sauté, Rice, Porridge, Steam, Yogurt, Keep Warm, and Pressure Cook. The larger sizes also come Multigrain and Poultry Smart Programs.



You can Delay Start your programme and Keep Warm after it's done cooking, which means you can load your food, lock the lid, set the programme, and forget about it whilst you get on with the rest of your day.
So why choose the Instant Pot Duo?
The multifunctional ability of the Instant Pot means you may only need to use one appliance rather than several pots and pans, saving on washing up and on storage.
Instant Pot is a reputable brand, and the Duo series uses the latest technology with an advanced microprocessor to monitor all aspects of cooking, ensuring the best results each time.


As a pressure cooker, the Instant Pot is safe to use and very quiet, making it truly the best electric pressure cooker. Gone are the days of hissing stovetop pressure cookers with exploding lids! With the Instant Pot, you know exactly when it is safe to open the lid after cooking.


The inner bowl is made from stainless steel, both hygienic and dishwasher safe. The Duo also comes with many useful accessories, and you can also purchase other accessories, from Instant Pot or other companies, to use with the Duo.
How does the Instant Pot work?
The Instant Pot consists of an outer bowl with an electric heating element built in. There is a removable inner bowl in which food is cooked and which is made from stainless steel and dishwashing safe.

The outer pot has a locking lid with sealing vent and pressure valve, which means when cooking is done, you can choose to either release the pressure manually by opening the valve, or allow it to release naturally as the pot cools.



If you need to stir fry or sauté ingredients before pressure cooking, you can do it all in the inner bowl using the Sauté function, before locking the lid and setting the meal to cook.


When you're ready to cook, choose from one of the many preset Smart Programs, or set the cook time manually. In all cases, you can adjust the cook time as well as choose whether to use low pressure or high pressure when cooking.


If you don't need your meal ready until later in the evening, or indeed the next morning, you can Delay Start your programme by up to 10 hours. And if you won't be there to serve your meal as soon as its done cooking, use Keep Warm to maintain the temperature of your food.


With so many cooking options and so much flexibility built in, the Instant Pot Duo really is the best electric pressure cooker.
Are there any disadvantages to the Instant Pot?
Depending on the size you get, the Instant Pot can be quite large, so you'll need sufficient counter space for it.


Invariably, food, oil and sauces splatter around the rim of the outer pot, which can be fiddly to clean.


The silicone sealing ring absorbs the odours from food cooked, so it can be helpful to have different rings for the different types of food you cook, e.g. one for sweet foods and another for savoury.


It takes some time for the Instant Pot to come to pressure before it starts cooking, so you'll need to factor that into the total cooking time.


Steam from the Instant Pot is extremely hot and can scald, so particular care is needed when releasing pressure manually.


The Instant Pot Duo is not a particularly cheap appliance, but once you realise how much use you're able to get out it, you may come to the conclusion that it's the best electric pressure cooker for you and will probably find that it's extremely good value for money.
My personal opinion?
I have owned my Instant Pot Duo for several years now, and I still use it nearly every day. In fact, sometimes I use it more than once a day, which is why I purchased a second inner bowl, so that I can use the Instant Pot again straight away with a clean bowl.

Click to purchase from Amazon.com
or order the inner pot and sealing rings separately from Amazon.co.uk
The Instant Pot is a reliable and invaluable kitchen appliance. What I appreciate most about it is the flexibility it affords me, particularly with the Delay Start and Keep Warm functions. It makes preparing complex weeknight meals a possibility. And because the cooking will stop at the end of the programme, it complements my busy lifestyle, when I might not always be at home to turn the stove off.

For example, I do most of my meal preparation during the day and then set it to cook while I pop out to collect the children or run an errand. If I need to be out for longer before dinner time, I'll use the Delay Start function to time it for when I plan to serve dinner. The Keep Warm function means that if I'm back home a bit later, the food is kept warm at the end of cooking and ready to serve.
Sometimes I programme the Instant Pot the night before and delay the cooking until the next morning. This generally happens when I'm cooking porridge for breakfast the next day. It saves a lot of time in the morning when all I have to do is dish up rather than prepare the whole meal!
For most of the meals I cook in the Instant Pot, I first use the Sauté function to fry the aromatics, and sometimes meat, before setting it all to cook. The Instant Pot is particularly good for braising, turning tough cuts of meat into buttery tender mouthfuls with just half an hour or so of cooking. Stews and curries that normally require simmering for hours can be ready in a fraction of the time using the Instant Pot.
Needless to say, I have been extremely please with my Instant Pot Duo and can highly recommend it. I'll admit that I was unsure about it at first and about how much I would use it. But now that it has become a trusted friend in the kitchen, I really do believe it is the best electric pressure cooker, and I have come to depend on it. It has taken a lot of the stress and logistical planning issues out of cooking weeknight meals. What more could you ask for?
Conclusion
If you're looking for a multifunctional cooking appliance to give you flexibility and to help with your meal preparation, then the Instant Pot Duo could be what you need.


Instant Pot is a high quality and reliable brand, using the latest technology to ensure the best results.


Three sizes and multiple preset Smart Programs the Instant Pot Duo offers a maximum range of options to suit your family's needs.


The Instant Pot comes with some accessories, and many more are available either through other manufacturers or Instant Pot itself.


Once you understand how the Instant Pot works, it is very easy to use! No wonder many consider it the best electric pressure cooker on the market.
What's on your mind?
Let us know any thoughts, comments or questions by getting in touch here.


---
Back to the Top!