Baby Soup Recipes
This page may contain affiliate links, which means we receive a small commission for purchases made using the links. There is no additional cost to you. Please read our full disclosure policy.


If you'd like to feed your baby soup, then you are in luck! There are an endless number of soup recipes out there, mostly involving cooking some meat and/or vegetables together with some liquid, making soup an extremely versatile dish that anyone can make. For the most part, soups come either in clear form (made with a stock base) or in thick form (generally made with a base of pureed vegetables).
Since you are free to combine any number of ingredients together to make a soup, it is a great way to eat a complete meal, finished with a slice of bread or toast on the side.
Feeding your baby soup is the natural way to segue between liquid and solid food intake, with soup recipes having been present throughout history. Today, soups are a convenient meal to prepare and serve. They are also a quick and easy way to feed a tired baby or toddler a nutritious meal.
The selection of baby soup recipes below have all been successfully tried and tested. They are ideal for babies and toddlers alike, as you can adjust the liquid level according to your child's preferences and either puree to a smooth texture for smaller babies or leave chunkier for older babies and toddlers.
Remember that it is best not to add any salt to baby's food before the age of 1, so if you are cooking for older children or for the family, make sure you set aside baby's portion first before seasoning.

Explore the Collection
Feel free to browse our collection of baby soup recipes below. The recipes can be made to feed the entire family, just set aside baby's portion first and puree it to the desired consistency. You can then add seasoning and other flavourings to the portion for the rest of the family.

---
Baby Soup Recipes
This creamy soup is a gentle yet tasty way to introduce the flavour of mushrooms.
Lentils are packed with protein, making this simple soup very filling as well as nutritious.

Full of vegetable goodness to make you happy, with added pasta and tomato sauce to keep your little one happy!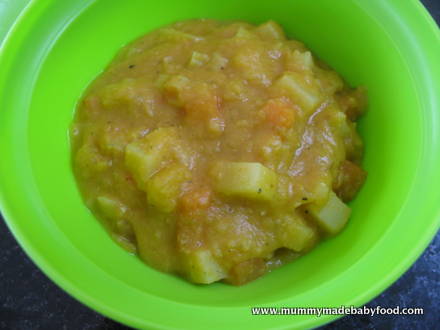 Root Vegetable and Lentil Soup
Most children love root vegetables, and this soup will satisfy baby's hunger, especially good for cold winter evenings.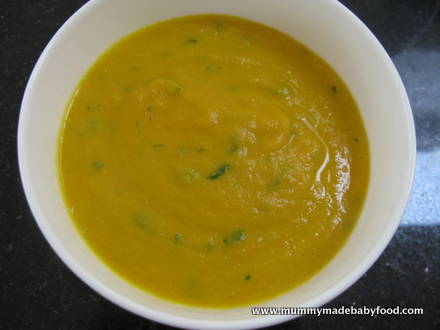 A simple yet delicate soup that's great for introducing a bit of coriander flavour to your child.

What's on your mind?
Let us know any thoughts, comments or questions by getting in touch here.


---
Back to the Top!