Baby Soup Recipes: Carrot and Coriander Soup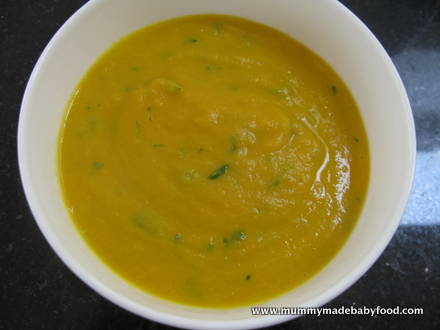 Feeding your baby soup is both a nutritious and filling option, as food cooked into soups retains more of its nutrients. So, although you may be taking in fewer calories by eating a bowl of soup versus a traditional meal, you are getting more 'bang per calorie', as it were. Soups are also a great meal option when time may be limited.
The recipe below for Carrot and Coriander Soup that is both easy and delicious - both you and your baby will love it. (NB: coriander is also know in some parts of the world as cilantro). Children generally like eating carrots because of their natural sweetness, and pairing the vegetable with coriander is a gentle way to introduce the spice.
The baby soup recipe below is a fantastic way for your little one to get his beta-carotene, as carrots are particularly rich in this antioxidant nutrient. If you'd like, start with just a pinch a coriander, and increase the amount gradually, once you're confident baby has accepted the flavour. For more adventurous babies, feel free to include the full amount straight away!
Baby Soup Recipe for Carrot and Coriander Soup
This recipe yields 1 litre of soup, or approximately 8 servings and is suitable for freezing.
Ingredients:
Oil for cooking
100g onion, peeled and chopped
150g potato, washed, peeled and diced
450g carrot, washed, peeled and diced
1 tsp ground coriander
500ml vegetable stock
Handful of fresh coriander, washed
Directions:
Heat the oil in a lidded saucepan, and cook the onion for a few minutes until soft.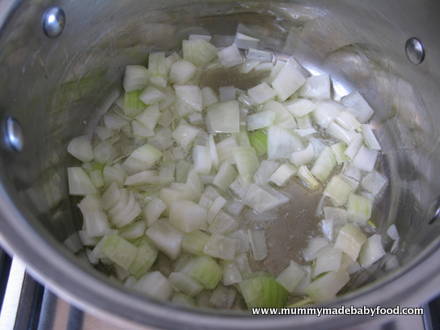 Add the potato, carrot and ground coriander, and cook for a further 2-3 minutes.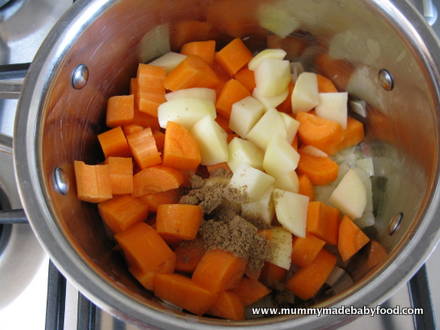 Add the vegetable stock. Bring to the boil, cover, and simmer for 20 minutes.
Remove from heat, and leave it to cool slightly.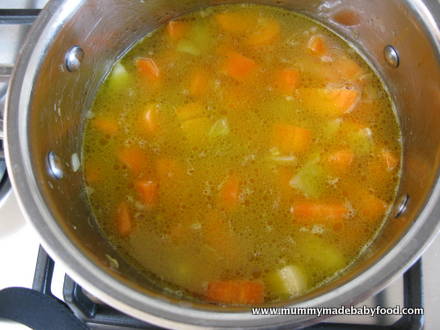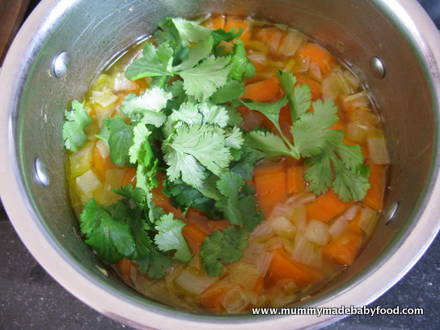 Blend to a smooth consistency, using either a handheld stick blender or a traditional blender or food processor.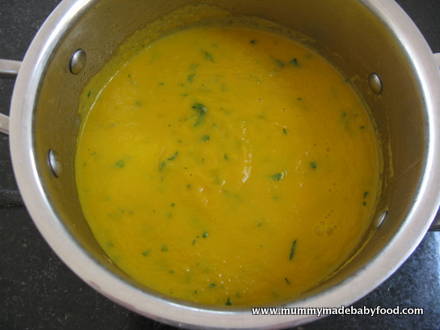 Allow the soup the cool sufficiently.
Serve and enjoy!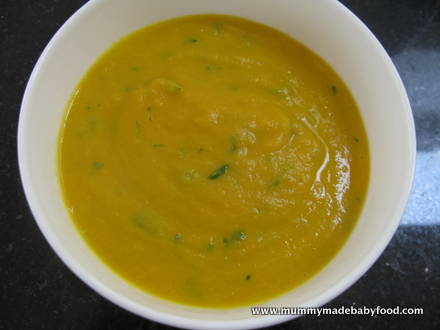 ---
---
Oct 27, 20 06:53 AM

Every family cook needs a recipe for Bolognese Sauce in their repertoire - it's the dish that keeps on giving. Serve it over pasta midweek, and make it into lasagne at the weekend.

For more recipes and…

Oct 15, 20 09:32 AM

I made this dish for the family at the weekend. It is so flavourful and satisfying, and the perfect remedy for these cooler and shortened evenings.

For more recipes and information, click here.

Oct 08, 20 07:28 AM

It's definitely soup season. What better way to warm up on a rainy day than sipping on this comforting soup, made in half the time in the Instant Pot.

For more recipes and information, click here.
Stay in Touch for New Recipes and More
Subscribe to our newsletter!
Like This Page?
Have Your Say