Family Favourite Dinner Recipes and More
This page may contain affiliate links, which means we receive a small commission for purchases made using the links. There is no additional cost to you. Please read our full disclosure policy.


Welcome to our collection of family favourite dinner recipes and the food that gathers us around the table at each family meal time. We treasure family meal times, especially amid our busy lifestyles, and dinner is typically the meal we find easiest to share together.
Are you looking for recipes to share around your dinner table? Are you in need of inspiration for your family dinners? Does the question "What's for dinner?" fill you with dread? Then I'm so glad you stopped by!

This site was born out of my own personal struggles to come up with interesting and healthy recipes for the family, particularly during the week, when time is short. Even if you enjoy cooking, who wants to spend hours preparing a meal when there are so many other things to be done? Not only does this site provide a way for me to record our family favourite dinner recipes, but I'm also hopeful that this collection can help you limit the stress of trying to decide what to cook for dinner.
Whilst juggling a full-time job and raising my babies, I developed a system that allowed me to cook their meals without slaving for hours in the kitchen. It involved a lot of batch cooking and freezing, but it meant my babies could still eat home cooked meals, even if I wasn't home at dinner times. You'll find my planning and organisation tips on this site, many of which I still use today, although my children are no longer babies.
Most of us lead very busy lives, especially if you add children to the mix, so many of the recipes on this site have been developed to be quick, easy and no nonsense. I have become something of an expert at partially cooking a meal before the school run and then finishing it off when I return home with the kids, in time for dinner!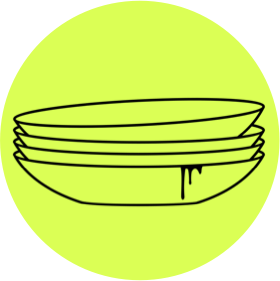 Our Family Favourite Dinner Recipes?
Our dinner recipes tend to rotate on a seasonal basis. So, lighter foods and salads in the summer months and richer meals and stews in the winter months. Although comfort foods are pretty much a year round staple in our household. :)
Whenever I feel in need of a change, I usually first decide what flavours I'm craving and then I brainstorm which existing recipes I can modify to create the dish I'm looking for. The beauty of being the family menu planner is the ability to cook whatever I happen to be in the mood for! Once I've formulated a recipe in my head, it typically takes two or three attempts and tweaking various bits to get it just right.
As our family appetites have grown, so have the quantities of food I need to cook. I'm definitely at the point where my children can eat more than I do, so our fridge no longer comfortably holds a week's worth of shopping! Not quite sure how we'll manage with four fully grown people at home...
In the meantime, I've embraced and made friends with my cosy kitchen. And as the family continues to grow, so will the recipe collection, and whenever we find a new family favourite, it will be added to the site.
Not limited to just family favourite dinner recipes, the recipes contained on this site can be prepared and served for any meal of the day and beyond. Feel free to explore the collection - they've all been tried, tested and family approved. You'll find a little bit of everything in this collection, a reflection of our love for discovering new tastes and flavours, and I hope some of the recipes will also become your family favourites.
---
Stay in Touch
Subscribe to our newsletter for regular updates!
---
What's on your mind?
Let us know any thoughts, comments or questions by getting in touch here.


---
Back to the Top!