Snack Idea Wanted For Busy Children
As a mother, I am always on the hunt for a delicious and preferably easy snack idea for my children, for when they get the munchies in between meals. Being mini meals, you want your children's snack to be nutritious but not so filling that it will put them off their next main meal. When convenience is not high on the priority list, these days I prefer to make my own snack food, as commercially available alternatives can often be packed with preservatives, salt, sugar and other nasties.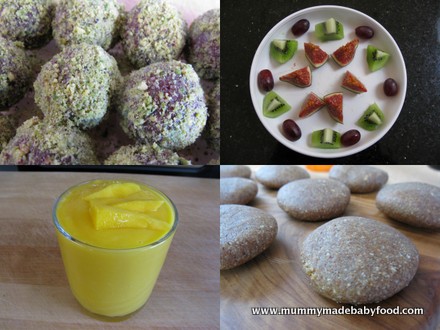 Children are constantly on the go, and in order to grow and stay on top of their active lifestyles, they need fuel in the form of healthy calories. In addition to three well-balanced meals a day, your child will need nutritious snacks in between meals to see them through to the end of their day. If you happen to be the parent of teenagers, you may well find that your children eat continuously throughout the day, with hardly any distinction between snacks and meals!
For me, a great snack food is ideally portable, requires a minimal amount of time to assemble, tastes great and is good for my kids, too. I'm often offering snacks on the way to the playground or in between activities, so they need to be something that my children can feed themselves. My staples tend to be fruit- and nut-based, although I will occasionally offer grains, as long as it's not cakes and biscuits (everyday)! ;-)
The below list includes a few of the snacks I've tried with (and had approved by) my children. As I am always being hounded for snacks, expect this list to grow!
Find a Snack Idea From the Recipes Below
Ants On A Log
This is a childhood favourite of mine.


Mango Smoothie
My little ones love mango, and this is a real treat.


Chewy Granola Bars
Full of energy for children on-the-go, these beat the commercially prepared versions.


Fresh Fruit
Pure, unadulterated fruit does an amazing job at keeping hunger at bay in between meals.


Raw Chocolate Truffles
As good as the real thing but completely guilt-free!


Raw Fig and Almond Bites
A figgy snack that's not just for the holidays.


Raw Ginger Buttons
Tastes just like a ginger biscuit, only healthier.


Sugar-Free Raspberry and Yoghurt Ice Lollies (Popsicles)
Perfect for under-one's and teething babies, these cool treats contain no added sweeteners.


Sugar-Free Strawberry Ice Lollies (Popsicles)
A deliciously moreish yet healthy treat, perfect for those hot summer days.

---
---
Oct 27, 20 06:53 AM

Every family cook needs a recipe for Bolognese Sauce in their repertoire - it's the dish that keeps on giving. Serve it over pasta midweek, and make it into lasagne at the weekend.

For more recipes and…

Oct 15, 20 09:32 AM

I made this dish for the family at the weekend. It is so flavourful and satisfying, and the perfect remedy for these cooler and shortened evenings.

For more recipes and information, click here.

Oct 08, 20 07:28 AM

It's definitely soup season. What better way to warm up on a rainy day than sipping on this comforting soup, made in half the time in the Instant Pot.

For more recipes and information, click here.
Stay in Touch for New Recipes and More
Subscribe to our newsletter!
Like This Page?
Have Your Say