Baby Snack Idea: Raw Chocolate Truffles
This page may contain affiliate links, which means we receive a small commission for purchases made using the links. There is no additional cost to you. Please read our full disclosure policy.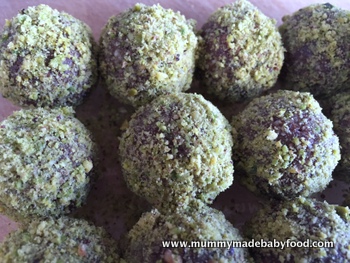 This guilt-free baby snack of raw chocolate truffles - so named because their shape resembles that of the fungus variety - is one for the whole family to enjoy. They look like truffles, smell like truffles, and even taste like truffles, but they are made with good stuff only and completely sugar-free, so they don't give you the crazy highs followed by crashes that consuming a lot of refined sugar can, and you truly don't need to feel guilty, even after a binge eating session. And, as we love nuts around here, I have dusted mine in ground pistachios, but feel free to use your dusting ingredient of choice.
All the ingredients in this recipe are raw, which means they retain their full nutritional benefit, and the only sweetness comes from the dates. These raw chocolate truffles are the perfect after school snack for older children, but toddlers and older babies love them equally! Although commercially available chocolate is derived from cacao beans, the cooking and processing required to convert cacao into chocolate means that very little of the original nutrients are remaining once in chocolate form.
Despite popular thinking, chocolate - and therefore raw cacao - does not naturally contain caffeine. They do both contain theobromine, which is closely related to caffeine but does not stimulate the central nervous system as caffeine does. Raw cacao does not make you jittery like coffee can, though you may choose to reduce the amount added to this baby snack if making for smaller children or leave it out all together for babies.
Raw cashews are also chock full of health benefits, including having a lower fat content than most nuts, and also having the vast majority of their fat being unsaturated fatty acids. And Medjool dates, aside from being the sweetening ingredient, possess numerous health benefits themselves, including containing no fat whilst being loaded with calories, carbohydrates and protein. So finally you have a sweet treat which you should be trying to eat more of rather than less!
Baby Snack Recipe for Raw Chocolate Truffles
This recipes yields approximately 18-20 mini truffles.
Ingredients:
8 pitted Medjool dates (~150g)
150g raw cashew nuts
2 Tbsp raw cacao powder
30g raw pistachio nuts, ground (for dusting)
Directions:
---
---
What's on your mind?
Let us know any thoughts, comments or questions by getting in touch here.