Lasagne is a baked pasta dish that is immensely satisfying and always a crowd pleaser. It is thought to have originated in Italy during the Middle Ages, mostly like from the city of Naples. 'Lasagne' (or 'lasagna' for singular), refers to the flat sheets of pasta that are used for layering. There are slight regional variations to this baked pasta dish, but most include layering a combination of meat sauce, pasta sheets and creamy sauce with cheese.
Lasagne works extremely well for preparing ahead of time and popping into the oven just before dinner time. It's a favourite dish for the end of the week, when I just want an easy mealtime. Everything is prepared in advance in the afternoon, so all I need to do is bake it in the oven and presto - dinner is served! My kind of dish. Serve it with a green salad on the side to make a complete meal.
Whenever I make Bolognese sauce, I always make extra so that leftovers can be used to make lasagne later in the week. This makes lasagne a really rather quick dish to put together, as all I need to make is the bechamel (white sauce), and I get two separate meals from one batch of Bolognese. The baked pasta is also a nice variation from the usual boiled pasta with sauce! Lasagne is a firm family favourite and a popular one for the cooler months of the year.
Lasagne
By Wendy | Serves 4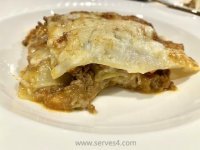 This comforting lasagne is the perfect dish for using up leftover Bolognese sauce.
Prep Time: 20 minutes
Cook time: 30 minutes
Serves: 4-6
Course: Main, Pasta
Cuisine: Modern European
Tags: Baked Pasta, Bolognese, Ragu
Ingredients
1/2 batch Bolognese Sauce
500ml bechamel (white sauce)
8-12 sheets of lasagne
50g freshly grated Parmesan
pinch of freshly grated nutmeg (optional)
Method
Have a baking dish, approximately 26cm long x 16.5cm wide x 5cm deep, ready. Preheat the oven to 190C / 170C Fan.
If you don't have leftover Bolognese sauce, you'll first need to make some, then set it aside along with the lasagne sheets, and prepare the grated Parmesan for later.
Prepare the bechamel - you'll need up to 15 minutes for this.
When the bechamel is nearly done, heat some water to just under boiling point in a flat pan. Meanwhile, spread a thin layer of Bolognese on the bottom of the baking dish.
When the water is just below boiling, place a few lasagne sheets in the water for a minute or so to soften. Remove carefully with tongs, and place in a single layer on top of the Bolognese. You may need to trim the corners to get a good fit.
Pour a layer of bechamel over the lasagne until the sheets are completely covered. Use a wooden spoon to push the sauce to the edges and corners.
Repeat these three layers another two or three times, depending on the depth of your dish, finishing with a layer of bechamel. Then sprinkle the grated Parmesan and nutmeg (if using) evenly over the top.
Bake the lasagne in the preheated oven for about 30 minutes, until the sauce is bubbling and the top nicely brown.
Remove the lasagne from the oven, and rest for at least 10 minutes before cutting into slices and serving.