Bolognese Sauce derives from the Italian ragu alla bolognese, a meat-based sauce typical of the city of Bologna. Cooking methods generally involve finely chopped vegetables and minced meat simmered together at length to produce a rich sauce. Whilst you could certainly prepare a tasty Bolognese Sauce in as little as 30 minutes' simmering time, the longer you can leave it, up to 1 hour and 30 minutes, the more the flavours are able to develop, resulting in Bolognese perfection. (If you don't have hours to spend in the kitchen, check out my Instant Pot Bolognese Sauce recipe.)
Bolognese Sauce is one of those dishes that has developed universal appeal, as there is so much you can do with it. Not limited to accompanying pasta, Bolognese can be served over either rice or courgetti (courgette spaghetti), or used in lasagne or a pie. Such is the versatility of Bolognese Sauce that I always make up a double batch, so I have extra in the fridge or freezer to use for future meals.
Contrary to popular belief, spaghetti bolognese is not actually an Italian dish but one that was popularised outside of Italy. The Italian ragu, whilst also eaten with pasta, is traditionally served with tagliatelle. We favour our Bolognese over fusilli here, as the corkscrews hold the sauce nicely and are not quite so messy as slurping long pasta covered in sauce!
If I have time, I will quite often use the extra Bolognese sauce to make a lasagne later in the week. You could also use it in a cottage pie (or shepherd's pie, if you used lamb mince for your sauce).
Bolognese Sauce
By Wendy | Serves 4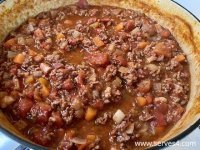 Wonderfully rich and satisfying, Bolognese Sauce is also extremely versatile and a must for every family cook's repertoire.
Prep Time: 15 minutes
Cook time: 1 hour 50 minutes
Serves: 8 (or 4, plus extra for reserving)
Course: Main, Sauce
Cuisine: Modern European
Tags: Pasta Sauce, Meat Sauce, Beef
Ingredients
Oil for cooking
100g diced pancetta [1]
2 medium onions, finely chopped
4 cloves of garlic, minced
2 stalks of celery, finely chopped
2 large carrots, peeled and finely chopped
1kg beef mince [2]
4 x 400g tins of chopped tomatoes
2 large bay leaves
Sea salt and freshly ground black pepper, to taste
freshly grated Parmesan to serve
Method
Prepare the onions and vegetables, and mince the garlic.
Heat some oil over medium heat in a large cast iron, or other heavy bottomed, pan with lid. Cook the pancetta for a few minutes until they release some of their oil.
Add the onion to the pan, and cook for a few minutes until they begin to soften. Then add the garlic, and cook for a further minute.
Then add the celery and carrot, and continue cooking for several more minutes until they begin to release some of their moisture, stirring occasionally.
Add the beef mince to the vegetables, breaking it down into small chunks with a spatula. Season with salt and pepper, and cook until the meat is mostly brown, stirring frequently.
Then add the chopped tomatoes, and stir to combine. Tuck in the bay leaves, bring the sauce to a boil, then reduce heat, and simmer gently with the lid slightly ajar.
Continue simmering for anywhere from 30 minutes to 1 hour and 30 minutes, stirring every half hour or so. When done, fish out the bay leaves, and give it a final stir before serving.
Serve over pasta, as is, or with freshly grated Parmesan on top. Or use in another recipe of your choice!
Notes
If you can't find pancetta, you could used unsmoked bacon lardons, or omit altogether.
Feel free to use pork or lamb, or any combination of meats, depending on what the sauce is being used for.