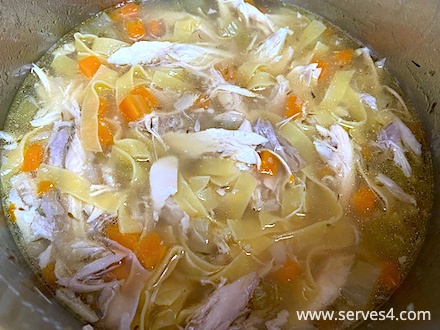 This Instant Pot Chicken Noodle Soup is my favourite, comforting and ward-off-the-sick-bugs soup, made in half the time. To get really flavourful chicken noodle soup with tender meat, you need to let it simmer for hours in the pot. But the beauty of a pressure cooker is that it can do the exact same thing in a fraction of the time, using extremely high steam pressure to speed the cooking.
During the week, I tend to use my Instant Pot pressure cooker a lot - for me, the convenience of the Instant Pot Chicken Noodle Soup is too great to pass up. I can cook and prepare the soup in the morning, leave it in the pot to keep warm, and add the noodles in when I get back home, just before serving.
Chicken noodle soup conjures up feelings of nostalgia for my childhood and reminds me of when I used to eat it to help me recover from a cold. Even if you aren't unwell, this soup is the perfect remedy for cold and wet autumn days or just for when you want to feel a bit cosy. There's nothing like sipping a bowlful of steaming soup on a rainy day for introducing some hygge into your life.
I add noodles to my soup to make it a complete meal, but you could add rice, instead, or serve it with crusty bread on the side. If you don't have an Instant Pot or pressure cooker, never fear! Check out my recipe for making chicken noodle soup the good old fashioned way.
Instant Pot Chicken Noodle Soup
By Wendy | Serves 4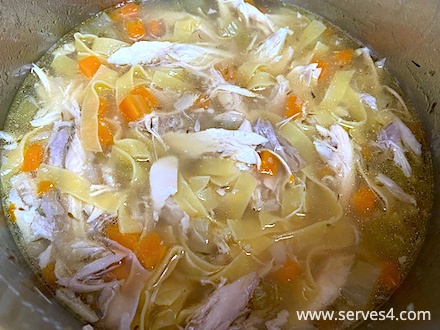 Make your favourite soup in half the time with this Instant Pot Chicken Noodle Soup recipe.
Prep Time: 15 minutes
Cook time: 25 minutes plus natural release
Serves: 4-6
Course: Main, Soup
Cuisine: Modern European
Tags: Chicken, Comfort Food
Ingredients
Oil for cooking
1 whole chicken (1.25-1.5kg)
2 medium onions (150g), chopped
1 garlic clove, pressed
2 celery stalks (150g), sliced
2 large carrots (200g), diced
1-2 tsp salt (adjust to taste)
1/2 tsp freshly ground black pepper (adjust to taste)
2 bay leaves
1/2 tsp dried thyme
1.25 litres hot water
125g egg (or other) noodles (optional) [1]
Method
Prepare the onion, garlic and vegetables.
Heat some oil using Saute (Normal), and cook the onions until starting to soften.
Add the garlic, and cook for another minute.
Add the carrot and celery, and cook for 8-10 minutes until the vegetables are soft, stirring occasionally.
Cancel the Saute function. Place the chicken in the pot, breast down, and pour over the water. Add the salt, pepper, thyme and bay leaves.
Lock the lid, close the sealing vent, and cook for 25 minutes on High Pressure with natural release.
Remove the chicken onto a large plate, and separate the meat from the skin and bones. Discard the skin and bones and skim off the fat from the soup, if desired.
Discard the bay leaves, and cook the noodles using Saute (Normal) for 1-2 minutes less than packet instructions. If not using noodles, stir the chicken meat back into the soup, and it's ready to serve.
When the noodles are done cooking, cancel the Saute function, and stir the chicken meat back into the soup to serve.
Notes
I like to use egg noodles that are flat and pre-cut, but if I can't find those, I substitute with fettuccine egg noodles and break them into shorter pieces before cooking.