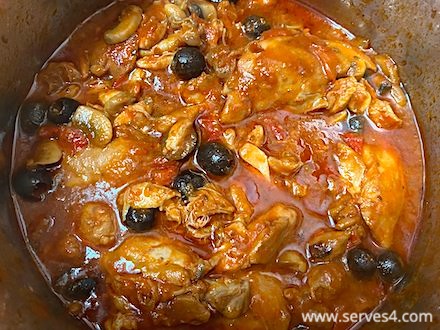 This Instant Pot Chicken Cacciatore (derived from a word meaning 'hunter' in Italian) is a modern take on the classic Italian 'hunter-style' braised chicken stew familiar to and loved by so many. To cook something alla cacciatora means to prepare it 'hunter-style', typically in a tomato based sauce with onions, vegetables and herbs. Interestingly, the traditional dish did not use tomatoes, which is thought to have been introduced later by southern Italians. Whilst cacciatore preparations also include salami and sauce, the stew prepared with chicken (Pollo alla cacciatora) is the most popular variation.
This Instant Pot Chicken Cacciatore is the ultimate convenience preparation of a traditional dish, yet it still tastes as if you spent hours slaving over it in the kitchen, as none of the taste and flavour is lost (very important!). I happen to have an Instant Pot Duo, but you could use any pressure cooker, electric or otherwise, to make this dish. I love that, with just a few easy steps of preparation, I can throw everything into the Instant Pot and leave it to do its thing whilst I pop out. By the time I get back home, the dish is good to go and ready to serve!
This recipe for Instant Pot Chicken Cacciatore is highly customisable, so you can feel free to make it your own. Aside from onions and red bell peppers, I add loads of mushrooms and black olives (favourites in our household) and sprinkle with dried oregano before cooking.
If you've cooked with pressure cookers before, then you'll already know that there is very little to no liquid evaporation during the cooking process. This does not affect the flavour at all, and you could absolutely serve it straight from the pot (I do this when I'm short on time!).
If, however, you like your stew a bit thicker in consistency, you could do what I tend to do and boil it down using the Saute function (with lid off) for about 10 minutes to evaporate some of the liquid. Then let it rest for another 5-10 minutes before serving. You could also thicken the stew using a cornstarch slurry. Start with 1 Tbsp of cornstarch, and slowly mix in 1 Tbsp of water until you have a uniform paste. Stir this into the stew to thicken it, adding more or less until you achieve your preferred consistency.
I usually serve this dish with plain rice, but crusty bread for dunking or pasta would also work well. Complete the meal with a green leaf salad on the side.
Instant Pot Chicken Cacciatore
By Wendy | Serves 4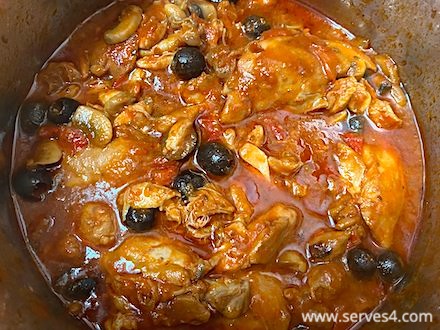 A modern take on a classic dish that doesn't sacrifice any of the flavour.
Prep Time: 30 minutes
Cook time: 15 minutes plus natural release
Serves: 4
Category: Main, Stew
Cuisine: Modern Italian
Tags: Instant Pot, Braised Chicken, Meaty Stew
Ingredients
Oil for cooking
8 chicken thighs, skin removed and bone in
1 medium onion, chopped
1.5 red bell peppers, diced
250g white closed cup mushrooms, wiped clean and sliced
250g pitted black olives in brine
300g passata rustica (crushed tomatoes)
2 Tbsp tomato paste (double concentrated tomato puree)
2 bay leaves
2 tsp dried oregano
Salt and pepper to taste
Method
If your chicken still has the skin on, remove it, pat the meat dry with some kitchen paper, season with salt and pepper, and set aside.
Prepare the onions, peppers and mushrooms, and drain the olives.
In the inner bowl of your Instant Pot, heat some oil on Saute (Normal) and cook the onions until slightly soft, stirring frequently.
Add the mushrooms (use more oil if needed), and continue cooking for 2-3 minutes.
Add the peppers, cook for 2 minutes and then the olives, cooking for another 2 minutes.
On Saute (More), add the chicken thighs. Cook until the meat is light brown on all sides, stirring occasionally.
Cancel the Saute function, add the passata, tomato paste and oregano, and mix until all the chicken is coated.
Tuck the bay leaves in, lock the lid and close the sealing vent. Cook for 15 minutes on high pressure with natural release.
When the pin drops, the dish is ready to serve. Or you can thicken the stew to your preference.