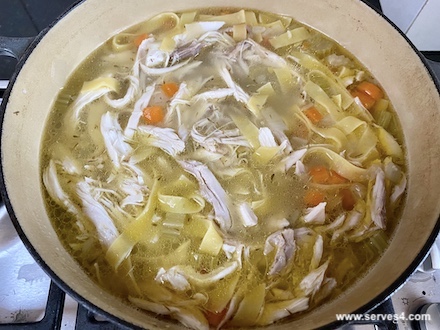 I always crave chicken noodle soup when I have a cold, as I associate it with comforting and healing properties. I'm sure it's because my mum used to make it for me as a child whenever I had a cold, and perhaps your mum did the same - with good reason.
Studies have shown that the soup may have anti-inflammatory benefits, helping to ease cold symptoms and make you feel better. The warm liquid and steam can also help with relieving feelings of stuffiness and congestion in the nose and throat.
When the chicken and vegetables have been simmering for hours in water, the resulting soup contains many valuable nutrients good for boosting immunity and general health. The chicken meat provides essential protein, and as my kids love noodles, I add some into the soup to make it a complete meal. It's amazing how such a simple dish like chicken noodle soup can give so much.
After the summer holidays, I tend to work chicken noodle soup back into our family dinner menu rotation, to coincide with back to school, the cooling weather, and the resurgence of sick bugs in the environment. That is a time when we could all use an immunity boost. You can, of course, make this soup without the noodles and serve with crusty bread on the side; or you could also substitute the noodles and instead add cooked rice to the soup. Whatever you fancy! You can also make chicken noodle soup in the Instant Pot, or other pressure cooker, in a fraction of the time, if you have one!
Chicken Noodle Soup
By Wendy | Serves 4
Familiar and comforting, this chicken noodle soup is sure to warm you on a cold Autumn's day.
Prep Time: 10 minutes
Cook time: 1.5 - 2 hours
Serves: 4-6
Category: Main, Soup
Cuisine: Modern European, Chicken
Tags: Chicken Soup, Noodles
Ingredients
Oil for cooking
1 whole chicken (1.25-1.5kg)
2 medium onions (150g), chopped
1 garlic clove, pressed
2 celery stalks (150g), sliced
2 large carrots (200g), diced
1-2 tsp salt (adjust to taste)
1/2 tsp freshly ground black pepper (adjust to taste)
2 bay leaves
1/2 tsp dried thyme
1.5 litres of hot water
250g egg (or other) noodles (optional)*
Method
Prepare the vegetables.
Heat some oil in a large lidded pot, and cook the onion until slightly soft, then add the garlic and cook for another minute.
Add the carrot and celery, and continue cooking until the vegetables have softened, stirring occasionally.
Add the chicken to the pot, breast down. Then add the hot water, salt, pepper, bay leaves and dried thyme.
Bring to the boil, cover, reduce heat and simmer for 1.5-2 hours (you could flip the chicken at the halfway point).
Turn off the heat, remove lid and cool slightly before carefully lifting the chicken out onto a large plate.
Skim off any fat from the soup, if you'd like, and cook the noodles (if using) for 1-2 minutes less than the packet instructions.
Meanwhile, separate and shred the chicken meat whilst discarding the skin and bones.
Discard the bay leaves, and add the chicken meat back to the soup, mixing well.
Notes
I like to use egg noodles that are flat and pre-cut, but if I can't find those, I substitute with fettuccine egg noodles and break them into shorter pieces before cooking.