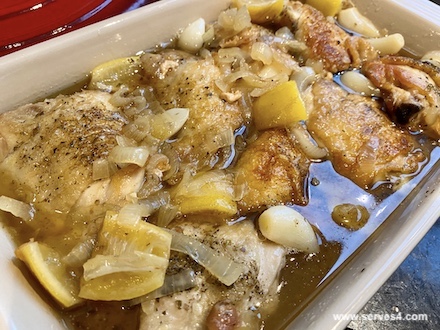 This Honey Braised Chicken is one of our top chicken dinner recipes for family meals - quick braised in a deliciously sweet sauce, it is a real hit with the children. The lemon adds a balancing acidity to the sweetness of the honey, creating a moreish sauce for drizzling over rice or soaking up with pieces of chunky bread. Dark meat is usually fattier, which means when it's cooked, it becomes more tender and juicy, scoring extra points with the younger family members.
Whilst this recipe calls for 12 whole cloves of garlic, the flavour is quite subtle and not overly garlicky at all. The braising means that the garlic becomes caramelised, soft and melt in your mouth tender. The lemons also caramelise, which means their flesh becomes sweet and sour, in contrast with the concentrated bitterness of their rind - a combination I love!
Key success criteria in choosing the perfect chicken dinner recipe include tastiness (yes!) and ease of preparation, and this dish does not disappoint on either front. With only six ingredients, most of which you probably already have in your cupboards, this Honey Braised Chicken requires very little advance planning. And who couldn't do with a recipe like this when you're trying to decide what to cook for dinner midweek? This casserole could also easy be prepared and assembled in advance, and finished cooking when you get come from collecting the children. Win!
I typically serve this dish with rice, as it's great for soaking up the flavourful sauce, but you could easily serve it with a generous side of crusty bread for dipping. A simple green salad, or steamed green beans or tenderstem broccoli with some salt and extra virgin olive oil, all work nicely to complete this meal.
Honey Braised Chicken
By Wendy | Serves 4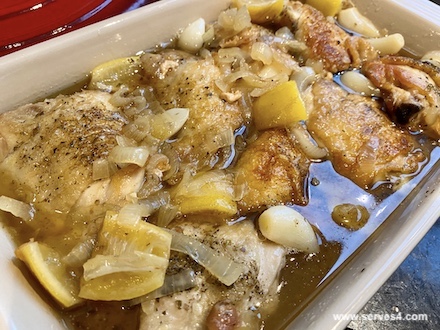 One of our favourite chicken dinner recipes for family meals, this dish also wins with the kids.
Prep Time: 10 minutes
Cook time: 55 minutes
Serves: 4
Category: Main
Cuisine: Modern European, Chicken
Tags: Braised Chicken, Lemon and Honey
Ingredients
Oil for cooking
8 chicken thighs, skin on and bone in
1 medium onion, thinly sliced
12 whole garlic cloves, peeled
1 lemon, cut into 8 chunks
185ml chicken stock
125ml honey
Dried oregano
Method
Prepare the onion, garlic and lemon. Then combine the chicken stock and honey.
Heat some oil over medium heat in a lidded pan. Brown the chicken in batches, starting skin side down, about 5 minutes per side.
Reduce the heat to medium low, add more oil, and cook the onion for a few minutes until soft. Add the garlic and cook for a further 2 minutes.
Replace the chicken in the pan and arrange in a single layer. Tuck the lemon chunks between the chicken pieces.
Add the chicken stock and honey mixture to the pan. Sprinkle with some dried oregano, if desired.
Bring to the boil, cover with the lid, reduce the heat and simmer for about 25 minutes until the chicken is cooked through.
Remove the chicken, lemon, garlic and onion to a serving dish to rest, whilst you reduce the sauce.
Bring the sauce to a boil over medium heat for a few minutes until slightly thickened and more concentrated.
Cool the sauce slightly before pouring over the chicken.