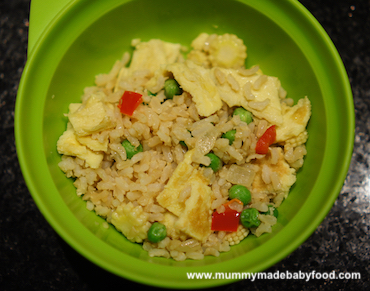 As a baby rice recipe, fried rice, a popular dish in Asia but eaten in many parts of the world, is hard to beat. Fried rice is the classic dish for using up leftovers and reinventing it into a tasty new creation. I doubt even your baby can resist the fragrant aromas of wok-fried rice, and this vegetarian version is great for getting protein and nutrients into your little one, all whilst filling their tummies!
Rice is a staple dish in almost all parts of Asia, including East Asia, South Asia and Southeast Asia. So it makes sense that fried rice is readily available in that part of the world. Although, what once began as a functional dish for maximising food consumption, fried rice has evolved into a gourmet dish of sorts to please even the purest of foodies. The multitude of ingredients you can add to fried rice is countless, and the most popular combinations even have specific names with set ingredient lists. Not limited to Asia, rice is also eaten in some Latin American countries, which have their own variations of fried rice. The possibilities are limitless.
If you tend to eat rice and regularly have leftovers, then this is the recipe for you! And if not, it is an easy enough dish to whip of from scratch - you'll be feeding your baby rice all the time (with extra for you!). I hope you will both enjoy it.