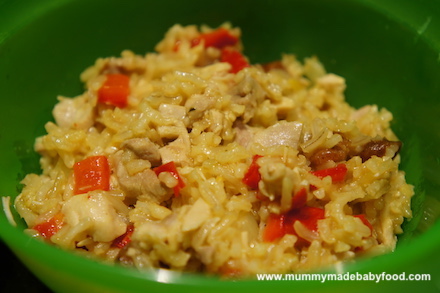 Pilaf (or pilau, as it is sometimes called) is such a great baby rice dish, as it is probably one of the original one pot wonders. Not only is it delicious and packed with nutrients, but it also saves on washing up - a win-win for all! Pilaf is typically a rice dish, although in some regions it is made with wheat, and generally involves cooking in stock with added spices, vegetables and meat. As popular as it is, pilaf and its related dishes are common in many parts of the world, including Eastern Europe, the Middle East, Central and South Asia.
The word pilaf itself derives from the Persian word pilāv. A 10th century Persian scholar is considered to be the 'father' of modern pilaf, as it was in one of his books that the earliest recipe for pilaf was documented. The pilaf method of cooking quickly spread and evolved into such popular modern day dishes as the Spanish paella, and South Asian pilau and biryani. In contrast to the Italian rice dish risotto, pilaf rice should not be starchy, and the grains should be plump, separate and with no mushiness. As such, basmati rice is typically preferred, although any other variety of long grain rice could be used.
The baby rice recipe below packs in a complete meal with protein, starch, veggies and even a bit of sweetness. ;) It is also very easy to customise by adding more veggies, or swapping ingredients out entirely - whatever pleases your baby!