Baby Rice Recipe: Easy Kedgeree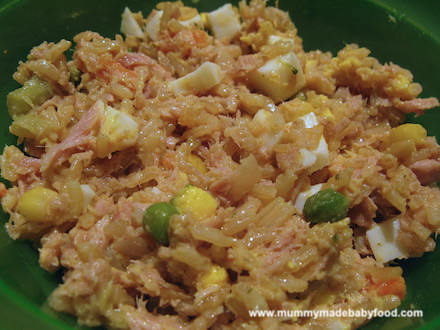 This is a lovely baby rice recipe for introducing your little one to the uniquely British dish that is kedgeree, and to the flavours of mild curry. Some of you (like I did!) may be asking yourselves, what in the world is kedgeree?! Well, this delightful dish was adopted by early Victorian colonists in India, who had developed a taste for it (as it reminded them of nursery food!) and subsequently developed it into the distinctly British cuisine that it is today. Queen Victoria herself was reportedly a big fan of kedgeree.
Perhaps one of the earliest examples of fusion food, kedgeree is milder in flavour than traditional Indian curries and packed with protein in the form of fish and eggs. And although the dish was traditionally eaten for breakfast, this simplified and easy baby rice recipe can be eaten at any time of day, and is perfect for keeping little tummies full.
The wonderful thing about kedgeree is how infinitely customisable it is. You can substitute any kind of fish you'd like, cook the eggs to your fancy, or even throw in a few sultanas to add a bit of sweetness. And when it comes to feeding baby, we all appreciate how useful it is to have an easily adaptable recipe! I hope your little ones will enjoy this meal. :) 
Baby Rice Recipe For Easy Kedgeree
Makes approximately 6 servings.
Ingredients:
Olive oil for cooking
50g onion, peeled and finely chopped
100g easy-cook long grain brown rice, rinsed
large pinch of ground turmeric
¼ tsp garam masala
400ml vegetable stock
2 large eggs
75g frozen mixed vegetables
200g can tuna in olive oil, drained and flaked
Directions: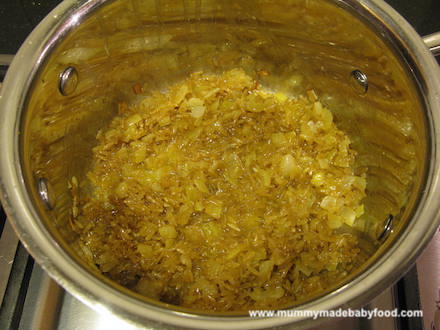 Then stir in the mixed vegetables and cook for a further minute.
Pour in the stock, bring to the boil, then lower the heat, and cook at a gentle roll for about 25 minutes, until most of the liquid has been absorbed and the rice is tender.
Meanwhile, put the eggs in a small saucepan, and cover with cold water. Bring to the boil, cover, then lower the heat and simmer for 6-7 minutes or until hard-boiled. Drain, peel, and chop the eggs.
Remove the rice mixture from heat, and mix in the tuna and eggs.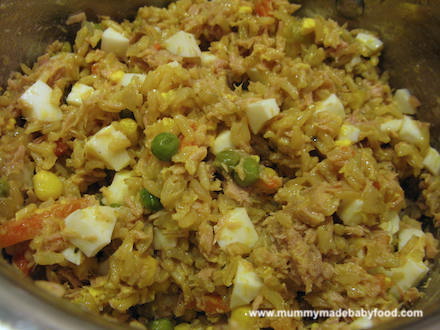 Allow the rice cool a little before serving as is, or partially blended for easier chewing. Enjoy!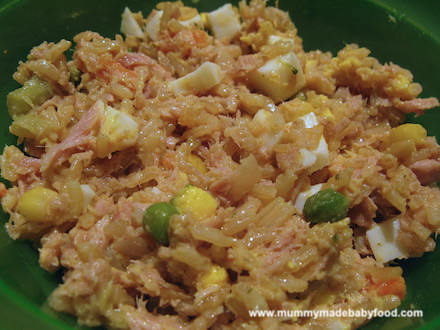 ---
---
Oct 27, 20 06:53 AM

Every family cook needs a recipe for Bolognese Sauce in their repertoire - it's the dish that keeps on giving. Serve it over pasta midweek, and make it into lasagne at the weekend.

For more recipes and…

Oct 15, 20 09:32 AM

I made this dish for the family at the weekend. It is so flavourful and satisfying, and the perfect remedy for these cooler and shortened evenings.

For more recipes and information, click here.

Oct 08, 20 07:28 AM

It's definitely soup season. What better way to warm up on a rainy day than sipping on this comforting soup, made in half the time in the Instant Pot.

For more recipes and information, click here.
Stay in Touch for New Recipes and More
Subscribe to our newsletter!
Like This Page?
Have Your Say