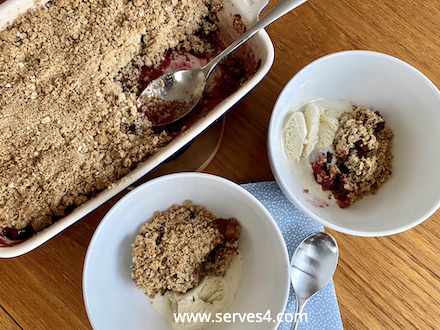 Cranberry and Apple Crumble is a seasonal variation of the traditional dessert and one of my favourite recipes for cranberry season. It's simultaneously sweet and tart, with a crunchy oat topping - who could ask for more? Plus it's packed with Vitamin C from the fruit, and we could all use more of that in the cold season.
Crumbles look and taste impressive enough for guests but are so quick and easy to make that there's no need to spend hours in the kitchen over it. Its simplicity is part of what makes the dish a favourite. Crumbles became popular in Britain during World War II, when there was a shortage of pastry ingredients as a result of rationing, so people turned to a more economic alternative.
The Cranberry and Apple Crumble recipe below uses Granny Smith apples, as I like the firm texture and tart flavour. Cranberries themselves are also naturally quite sour, so just enough sugar is added to balance the flavour, but the tartness of the fruit still comes through. I'm not one for overly sweet desserts, but if you have a sweet tooth, you could certainly adjust the sugar content to your requirements!
This is such an easy dish to make for Sunday lunch or afternoon tea, using mostly ingredients that you probably already have in your cupboard. And it can be made throughout the year using whatever fruit you happen to have in your fridge!
Cranberry and Apple Crumble
By Wendy | Serves 4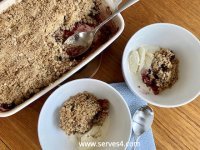 A festive twist on a classic dessert, Cranberry and Apple Crumble is a lovely one for cranberry season.
Prep Time: 15 minutes
Cook time: 1 hour
Serves: 8
Course: Dessert, Pudding
Cuisine: Modern European
Tags: Oats, Granola, Stewed Fruit
Ingredients
Topping:
80g rolled oats
80g plain flour
60g cold salted butter, cut into small pieces
40g light muscovado sugar
Fruit:
300g fresh cranberries, rinsed
500g peeled and chopped Granny Smith apples
90g light muscovado sugar
1 1/2 tsp ground cinnamon
pinch of freshly grated nutmeg (optional)
Method
Preheat oven to 190C / 170C Fan. First prepare the topping by mixing the oats, flour and sugar together in a bowl until well combined.
Add the pieces of butter, and using either the back of a fork or your fingers, mix in the butter until the mixture becomes coarse and sandy. Set aside in the fridge whilst you prepare the fruit.
Rinse cranberries and drain completely.
Peel and chop the apples into small pieces, and place in a large bowl with the cranberries, sugar, cinnamon and nutmeg (if using).
Toss everything together until the fruit is well coated, and transfer to a baking dish, flattening as much as you can.
Bake in the preheated over for 60 minutes until the fruit is bubbling at the sides and the topping is nicely golden.
Rest for 10 minutes before serving warm with double cream, clotted cream or ice cream.