Vegetarian Baby Recipes:
Easy Mixed Vegetable Frittata
This page may contain affiliate links, which means we receive a small commission for purchases made using the links. There is no additional cost to you. Please read our full disclosure policy.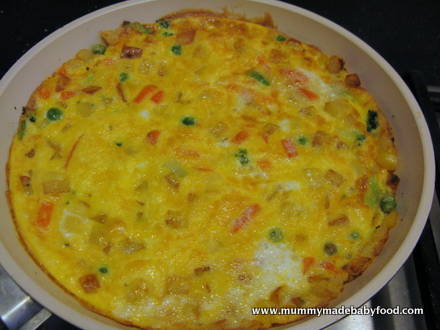 A frittata is an easily customisable dish for your vegetarian baby and literally means 'fried' in Italian, referring to how the eggs are cooked in this egg-based dish that is similar to an omelette or crustless quiche. You can put just about anything into a frittata, thereby allowing you to design the perfect dish that is both healthy and appealing to your little one.
Frittatas vary from traditional omelettes in the way they are cooked. They are not folded in half in the pan, enclosing all the filling ingredients; rather, they tend to be cooked 'open-faced,' with the raw egg poured over the cooked filling ingredients in the frying pan and allowed to 'fry' slowly until the centre is set and underside golden, whilst the top remains slightly wet. The pan is then put under the grill for a few minutes to cook the top layer.
This easy vegetarian baby recipe uses frozen mixed vegetables, which cuts down on preparation time, but you could, of course, chop your own fresh vegetables. I also like to include potato in my frittatas, as they bulk out the dish, making it more filling for little tummies. Leftover cooked potatoes are ideal to use, but you could cook your potatoes fresh, bearing in mind you'll need some advance preparation time before assembling the frittata.
For babies that have developed some chewing skills, you could chop the frittata into small chunks and serve as finger food. For more ideas and inspiration, have a look at my recipes for baby finger foods.
Vegetarian Baby Recipe for Easy Mixed Vegetable Frittata
This recipe makes approximately 3 servings.
Ingredients:
Olive oil for frying
150g cooked potato, diced
75g frozen mixed vegetables
3 large eggs
1 Tbsp Parmesan, freshly grated
1 Tbsp full-fat milk
10g unsalted butter (optional)
Directions:
Preheat the grill to high.
Heat the oil, on medium heat, in a small frying pan.
Add the potato, and fry gently until golden.
Then add the mixed vegetables, and cook for a few more minutes until softened.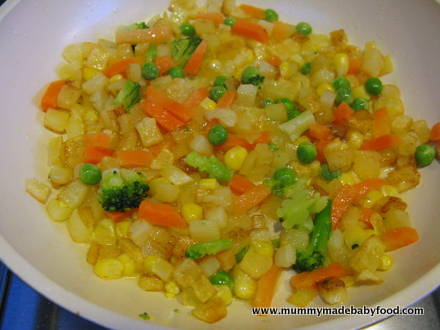 In a bowl, combine the eggs together with the Parmesan and milk, and beat until well-mixed.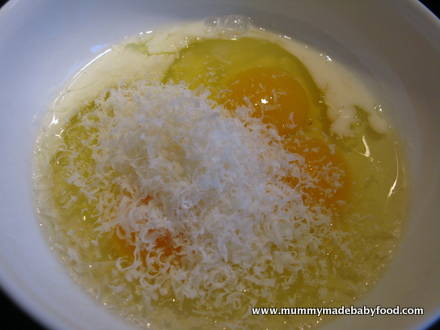 Add the butter, if using, to the pan.
When melted, pour the egg mixture over the vegetables, and cook slowly on low heat until the egg is set and the underside golden. The top will still be slightly wet.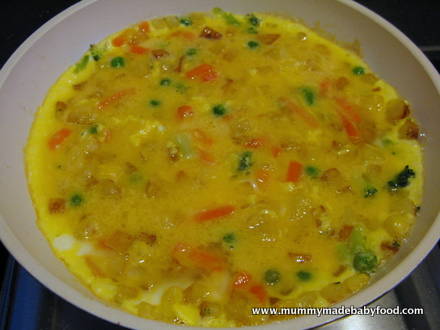 Place the pan under the pre-heated grill, and cook the top of the egg until golden.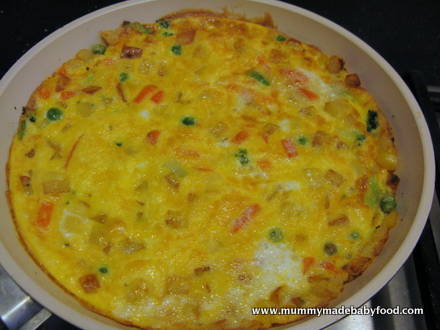 Allow the frittata to cool sufficiently before serving.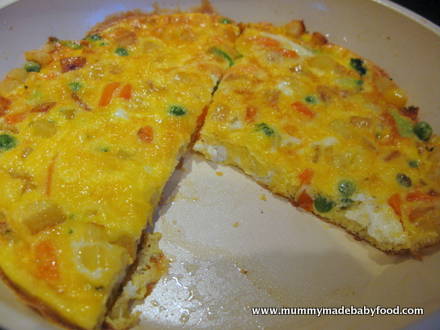 ---
---
What's on your mind?
Let us know any thoughts, comments or questions by getting in touch here.