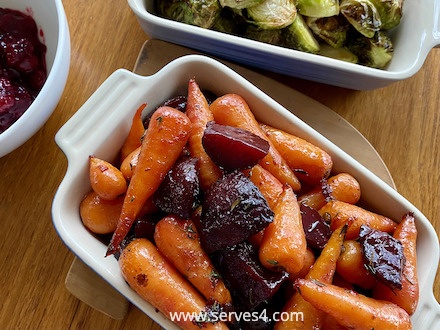 The secret to delightful Honey Roasted Carrots and Beetroot is in the Chantenay carrots. These miniature carrots are short and stout and, not only do they look adorable served up with your meal, but they are also delicious! Originally grown in Chantenay, France, Chantenay carrots have a natural sweetness to them, which is enhanced by roasting, making it pair well with earthy beetroot.
Chantenay carrots add a nice touch to special occasions - or to any occasion. They are a breeze to cook, as no trimming or peeling is really required - just rinse and go! Their carrot shape in bite sized format makes them especially fun for children to eat.
I like to serve Honey Roasted Carrots and Beetroot at Thanksgiving or Christmas because it looks beautiful on the table, but it's certainly easy enough to make for Sunday family lunches or dinner parties. The contrasting rich autumnal colours really cheer up the meal, and think of all the carotenoids and nitrates you're getting!
We don't like too much sweetness on our vegetables, but if you do, feel free to adjust the honey quantities to your liking. The beetroot does well to balance the sweetness of this dish. Just be careful not to use the pickled beetroot in vinegar, or you'll be in for a shock!