Looking for a Baking Recipe for Baby?
I love a good baking recipe, as you simply mix together the required ingredients, stick it in the oven, and voila – as if by magic, you have a perfectly (most of the time!) turned-out cake. And which child doesn't love home-baked goodies as a treat from time to time?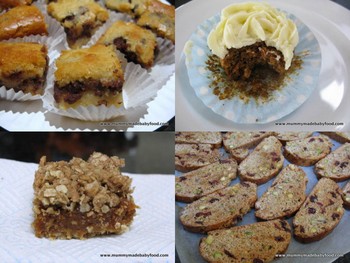 The below selection is not limited to cakes and baked goods but includes other desserts and treats, as well. These are just some of the recipes that have been successfully tried and tested on my son. No doubt this list will continue to grow, so I hope you find a suitable baking recipe for your baby here. ☺
Remember to avoid offering baby refined sugars in his first year, if you don't want him to develop a sweet tooth later in life. For babies under a year, cakes can be sweetened with ripe fruit or fruit juice. Older babies and toddlers can be offered cakes as an occasional treat, lest they come to expect them regularly!

Find Your Baking Recipe Here
Baked Nian Gao (Sticky Rice Cake) with Red Bean Paste
This is a traditional treat to eat when celebrating Chinese New Year.


Banana Chocolate Chunk Cake with Vanilla Buttercream Frosting
This was J's official 3rd birthday cake - great for those who love both banana and chocolate!


Banana Honey and Cinnamon Cupcakes
J's 4th birthday, and these were the cupcakes I made for his class. We like bananas...


Carrot Cupcakes with Cream Cheese Icing
I baked these for J's 3rd birthday - both sweet and healthy, they are a great treat for little ones.


Cranberry Apple Crumble
A favourite in the autumn months, when fresh cranberries are in season - little ones love the crunchy texture of the crumble topping.


Fig Bars with Oats
Dubbed "crunchy fig" by J, these are delicious any time of year and are especially popular during the
Christmas holiday season.


Gluten-Free Chocolate Cake
Also flourless and dairy-free, this indulgent cake is delicious whilst also catering for those with dietary restrictions.


Oatmeal Raisin Cookies
A real crowd-pleaser, these bite-sized goodies will keep little (and big!) ones coming back for more.


Pistacchio Cranberry Biscotti
A fun crisp texture for little teeth, these make ideal gifts, or keep them for dunking into your own cuppa.


Pumpkin Pecan Spelt Muffins with Home Made Pumpkin Puree
Spice up autumn with these not-so-spooky Halloween treats!


Sugar-Free Banana and Blueberry Mini Muffins
Ideal for younger babies, as these are sweetened only by ripe bananas.


Sugar-Free Chewy Granola Bars
Packed with energy for on-the-go toddlers, these are a healthy alternative to commercially prepared granola bars.


Sugar-Free Chunky Granola
Ideal for breakfast, my son loves the crunchy texture, and I love that it is healthier than store-bought granola.


Sugar-Free Mini Carrot Loaves
These are a fantastic vegetable-delivery device, and your baby will be none the wiser. ;)
---
---
Oct 15, 20 09:32 AM

I made this dish for the family at the weekend. It is so flavourful and satisfying, and the perfect remedy for these cooler and shortened evenings.

For more recipes and information, click here.

Oct 08, 20 07:28 AM

It's definitely soup season. What better way to warm up on a rainy day than sipping on this comforting soup, made in half the time in the Instant Pot.

For more recipes and information, click here.

Oct 05, 20 12:56 PM

If you're looking for a meat free dish, you need to try this delicious vegan lentil soup. I promise, it is filling, packed with nutrition and so easy to make. Meat Free Mondays have never been easier…
Stay in Touch for New Recipes and More
Subscribe to our newsletter!
Like This Page?
Have Your Say