Hello,
Well that went by quickly! We blinked, and suddenly summer was over, and we were packing our bags to go back to school. But it was a busy and fun-filled summer, with something different happening just about every week, from sport to music to coding; and we even managed to get away for a bit at the end.
Of course, shortly after the start of the school year, we had the very sad news that the Queen had died. Although not originally from here, the UK has been my home for 20 years now, and even as a child, Queen Elizabeth II was a constant presence. So now, it does feel like a loss that she's no longer with us, but the country is looking ahead with cautious optimism at what life might be like under the new King.
It does feel strange to say 'King' when we've all been used to saying 'Queen' for so long. But, just like starting a new school year, having a new monarch is a new beginning and a chance for change and improvement.
---
Recipes for September
Two recipes I make every September include Elderberry Syrup and Chicken Noodle Soup. Both help to support the immune system and relieve symptoms of cold or other nasty bugs that seem to spread like wildfire when schools are back in session.
Instant Pot Chicken Noodle Soup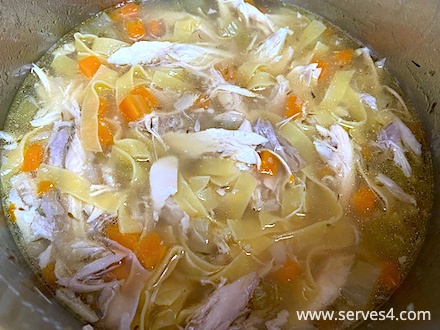 Save time and energy by making Chicken Noodle Soup in the Instant Pot!
---
New on Serves 4 📰
Cherry Clafoutis

Hanging onto summer and cherry season with this Cherry Clafoutis!
To see more recent pages, click here.
---
Personally... 📝
Extremely worrying as it is, we had record sunshine and temperatures this summer, which meant that staying in the UK actually felt, for once, like you were on a summer holiday! We were blessed with sunshine, blue skies and clear water when we were in Cornwall for the last week of the holidays. The breathtaking views from atop the cliffs simply could not be beat.
One of the places we visited was Tintagel Castle, supposed birthplace of King Arthur. The castle overlooks a picturesque cove, where Merlin's Cave is located, rumoured dwelling of the famous sorcerer.
Wishing you all a happy autumn full of great things for all your new beginnings!
---
Thank you for reading and for your support. 🙏 I hope you've enjoyed this newsletter.


Until next time! Meanwhile, keep cooking and carry on.


Wendy | Serves 4





Questions or comments? Requests or feedback? Whatever's on your mind, I'd love to hear from you. Just reply to this newsletter, and let me know what you think!

If you like this newsletter, please do a friend and me a big favour and "pay it forward."


If a friend did forward this to you, and you'd like to continue receiving these newsletters, click here to subscribe to Serves 4 News.
---