Messy Issues, Bite-Sized Solutions
A free monthly resource of tips for making baby food, inspirational recipes and anything else related to babies or children!

If you like this newsletter, please do a friend and me a big favour and "pay it forward."

If a friend did forward this to you, and if you like what you read, please subscribe by visiting Baby Food Bites.
---
Issue #010, 1st March 2016
"While we try to teach our children all about life,
Our children teach us what life is all about."
- Angela Schwindt
In this issue:
1) Spring has sprung!
2) Making Baby Food Tips
3) Recipe: Banana Chocolate Chunk Cake
---
Spring has sprung!
Although the vernal equinox, which marks the astronomical start of spring, isn't until the 20th of March, there is already a distinct feeling of spring in the air. Despite the weather still being frosty, the sun is shining, and the hours of daylight are noticeably longer. Perhaps the most visible sign of spring having arrived is the dozens of daffodils dotted around.
Spring signals rebirth and new life, with buds forming on bare branches and flowers back in bloom. The cycle of nature starts again – a new season with new beginnings. In addition to warmer weather, spring also brings Easter, in late March this year, as well as Mother's Day, for those in the UK.
With so much potential packaged into one season, it's hard not to feel the positive energy in the air. Spring is definitely a favoured season in our household, especially as both my little ones were spring babies, so it is indeed a season of new beginnings for me. We have much to celebrate here and wish you all a happy spring.
---
Making Baby Food Tips
Pre-chop your food
Don't be put off by recipes with a long ingredient list. Many vegetables can be chopped in advance and stored until needed, although vegetables that brown easily, such as potatoes and parsnips, are best left for when you need them. Many other ingredients can also be measured and portioned in advance. Spending a few minutes in advance preparation means that when it comes to actually cooking the meal, you will only need the minimum amount of time.
Introduce textured and lumpy food
As soon as your baby is happily eating a wide variety of foods and flavours, start introducing more lumpy and textured foods. If he is eating these confidently and has a few molars in, you can try him on roughly mashed food or food chopped into small pieces. Moving quickly onto lumpy and textured foods means your baby will be less likely to be fussy and insist on only eating smooth pureed foods.
Use a "food catcher" bib
Feeding a baby can be messy business, especially when he insists on feeding himself! If you use one of those bibs with an upturned food catching lip, not only will it help contain the mess, but you can also recycle the food that collects there on its way from the bowl to baby's mouth. Now that's a win for everyone. ;-)
---
Recipe: Banana Chocolate Chunk Cake
March is the first of our boys' birthdays, and this was the birthday cake I made for J's third birthday party. As he loved (and still does!) both bananas and chocolate, it was a clear winner. I hope your little ones will enjoy it, too. ☺
This recipe yields enough cake mix for a 9" x 12" pan.
Ingredients:
290g unsalted butter, softened to room temperature, plus extra for greasing
90g light muscovado sugar
5 large eggs
200g plain yoghurt
550g peeled ripe bananas
2 1/2 tsp vanilla extract
625g plain flour
2 1/2 tsp baking soda
5/8 tsp salt
1 1/4 tsp ground cinnamon
175g dark chocolate chunks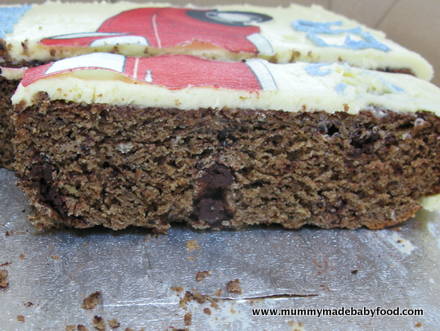 Directions:
Place the oven rack in the lower third of the oven, and preheat it to 175C/155C Fan. Grease a 9"x12"x2" oblong cake pan with a bit of butter, and set aside. Mash the bananas in a bowl with a potato masher or the back of a fork.
Using a hand-held electric or stand mixer, beat the butter and sugar together on low until incorporated. Then cream together by increasing the speed to medium until fluffy and lighter in colour.
On medium speed, add the eggs one at a time, beating well after each addition. Then beat in the yoghurt, mashed bananas and vanilla extract on medium speed for about 1 minute. Set aside.
In a large mixing bowl, whisk together the flour, baking soda, salt and ground cinnamon until combined. Using a large wooden spoon, slowly stir the dry ingredients into the wet ingredients until well-mixed and no flour pockets remain. Do not over-mix, as this will toughen the cake. Fold the chocolate chunks into the cake batter.
Spoon the cake batter into the prepared pan, and bake in the pre-heated oven for 60-65 minutes. Cover loosely with a sheet of aluminium foil about halfway through, to prevent the tops and sides from browning too much. The cake is ready when a toothpick inserted into the centre comes out clean.
Remove the pan from the oven, and allow the cake to cool completely, in the pan, on a wire rack.
Serve as is, or top with vanilla buttercream frosting and decorate.
Sit back, and enjoy!
---
Now time to get back to the little ones! Thanks for stopping by.
See you soon,
Wendy
Comments? Ideas? Feedback? I'd love to hear from you. Just reply to this newsletter, and let me know what you think!
Mummy-Made Baby Food Home Page
---