Messy Issues, Bite-Sized Solutions
A free monthly resource of tips for making baby food, inspirational recipes and anything else related to babies or children!

If you like this newsletter, please do a friend and me a big favour and "pay it forward."

If a friend did forward this to you, and if you like what you read, please subscribe by visiting Baby Food Bites.
---
Issue #005, 1st October 2015
"We worry about what a child will become tomorrow, yet we forget that he is someone today."
- Stacia Tauscher
In this issue:
1) Autumn's Arrival
2) Making Baby Food Tips
3) Recipe: Tasty Red Lentils
---
Autumn's Arrival
It is October now, and autumn is firmly under way. For me, autumn has always represented a real turning point in the year. Jumpers, boots and long dark coats come out from summer storage, the leaves change colour, Halloween/All Saints and Thanksgiving come and go, and then Christmas around the corner.
But first, can we pause to talk about the changing colour of the leaves?! This is, without doubt, one of the primary reasons why autumn is my favourite season. There is something so magical and mystical about those red, orange and yellow hues. And the lovely low light of a clear autumn's afternoon is just perfection that I wish I could bottle up.
The reduced hours of daylight at this time of year does tend to weigh on me a bit, but after Halloween has passed, the countdown to Christmas firmly begins (unless you're celebrating Thanksgiving at the end of November), and I start getting into a festive mood! I also savour the delicious foods that come with autumn, such as the warming stews and mouth-watering crumbles and other spiced puddings. However you experience this change of season, I wish you all a beautiful and bountiful autumn harvest.
---
Making Baby Food Tips
Spoon Feeding
Once your baby has developed enough coordination and is comfortably finger feeding, you can try him on a spoon. Initially, you will need to place a small amount of food on his spoon and guide his hand to his mouth. Once your baby understands the concept of spoon feeding, you can try letting him scoop and feed himself, although I would recommend that you also have a spoon in hand to catch any food that doesn't quite make it into his mouth!
Keep It Simple
Casseroles and one-pot meals are an easy option when your baby is first starting out on solid food. These types of dishes typically combine protein and vegetables, so as long as you structure it properly, you do not have to worry about your baby not getting a balanced meal. A lot of these dishes can also be adapted for a slow cooker, an extra bonus in time saving!
Breakfast Fruit
Offer your baby fruit with his breakfast to ensure that he takes in at least part of his minimum daily fruit and vegetable requirement at the start of the day. Fruit also aids in digestion, helping to keep your baby's bowel movements regular. For smaller babies, I tend to avoid fruit after lunch or dinner, just before a long sleep session, as if it does trigger a bowel movement, it can upset some babies and disrupt nap and sleep times.
---
Recipe: Tasty Red Lentils
The 1st of October is World Vegetarian Day, so what better way to celebrate than with this Tasty Red Lentils recipe? This is a lovely one-pot meal for babies who are just starting out.
This recipe yields approximately 7 servings for older babies eating full-portion meals but can be easily divided into several smaller 15ml 'cubes' for babies not yet accustomed to eating full-size meals.
Ingredients:
75g red lentils, rinsed
150g parsnips, peeled and diced
225g carrots, peeled and diced
350g potato, peeled and diced
600ml vegetable stock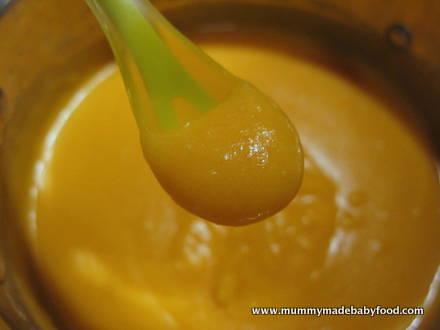 Directions:
Put the vegetables, lentils and stock together in a medium saucepan.
Place the pan on high heat and bring to the boil. Then cover, lower heat, and simmer gently for 40 minutes until the lentils are soft and most of the liquid has been absorbed.
Using a conventional blender (allow to cool slightly) or a handheld stick blender, puree the mixture until smooth.
Cool sufficiently before serving to baby, freezing any extra for future use.
---
Now time to get back to the little ones! Thanks for stopping by.
See you soon,
Wendy
Comments? Ideas? Feedback? I'd love to hear from you. Just reply to this newsletter, and let me know what you think!
Mummy-Made Baby Food Home Page
---