Messy Issues, Bite-Sized Solutions
A free monthly resource of tips for making baby food, inspirational recipes and anything else related to babies or children!

If you like this newsletter, please do a friend and me a big favour and "pay it forward."

If a friend did forward this to you, and if you like what you read, please subscribe by visiting Baby Food Bites.
---
Issue #004, 1st September 2015
"You can learn many things from children. How much patience you have, for instance."
- Franklin P. Jones
In this issue:
1) Back to School
2) Making Baby Food Tips
3) Recipe: Creamy Mushroom Soup
---
Back to School
September is upon us, and most people will equate this with autumn, a nostalgic longing for summer days gone by, and – back to school. What initially seemed like such a long time (how am I ever going to occupy my kids for nine weeks?!) is now over in a flash, and before you know it, your kids are another year older, more mature and about to start the new academic year. And we mothers can look forward to some routine, order and productivity around the house (as we silently mourn the passage of time)… ;-)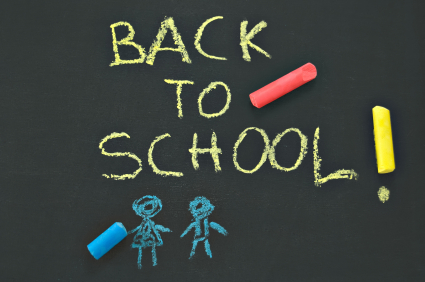 I've heard many a people tell me that children grow up overnight during the school holidays, and this certainly seems to be true with my children. I think it's because they are allowed to put into practice what they learn during the term but in their own way, and suddenly they are maturing literally before your eyes.
So whilst we mothers may wish to hang onto summer for just one more day and keep our children young for just a little bit longer, our children are showing us that they are ready to move on. Whatever reservations we may have had at the end of last academic year, we should be confident in knowing that our children have had an entire summer to mature and are almost certainly ready for whatever's facing them next. For us – it's learning to let go, and that is always the hardest part.
---
Making Baby Food Tips
Freezer Cooking
Sometimes also called batch cooking, freezer cooking is a great way to save time when it comes to cooking for little ones. Often times, I cook a lot more food than I need for the meal and will freeze the extra for future use. It can be a lifesaver during busy weekdays, when you're up against time and need to get food into little tummies quickly. This cooking strategy also works for adult meals. ;-)
Milk strike? Never fear
From the age of 1, some children will go on a milk strike and severely cut back their milk intake or refuse it altogether. But no need to stress, as often times they will take milk as part of a meal, so you can prepare milky breakfast cereals and incorporate more meals with cheesy white sauces in their diets. Yoghurts or sticks of Cheddar cheese can be given at snack times, to supplement milk intake. Please remember to always consult your Health Visitor, Paediatrician or other healthcare professional, if you are concerned about your child's nutritional intake.
Exercise snack discipline
Some children think about food all day long, much like my DS2(!), and never seem to be happy unless they have a snack in hand. Snacks are a great way to keep children going in between main meals, so filling up on snack food will naturally mean eating less at meal times. I try not to offer snacks in the hour before a meal, so that my children are still hungry enough to eat their meal.
---
Recipe: Creamy Mushroom Soup
September is National Mushroom Month, so celebrate by making this quick and easy Creamy Mushroom Soup. Mushrooms are the only whole food source of vitamin D, making this dish perfect for the days of diminishing sunlight.
This recipe yields approximately 1 litre of soup.
Ingredients:
90g unsalted butter
500g mushrooms, wiped clean
175g onions, peeled and chopped
1 garlic clove, peeled and minced
30g plain flour
500ml double-strength hot chicken stock
1 bay leaf
Pinch of ground white pepper (optional)
120ml single cream

Directions:
Melt the butter in a large saucepan. Cook the onion and garlic until soft but not browned, about 5 minutes, stirring occasionally. Meanwhile, slice the mushrooms.
Add the mushrooms to the pan, and cook on high heat for about 3 minutes, stirring frequently. Then stir in the flour, making sure to coat the mushrooms evenly.
Add the chicken stock and bay leaf, and bring to the boil. Lower heat and simmer for 10 minutes, stirring occasionally. Then turn off the heat.
Allow the mixture to cool slightly, and remove the bay leaf before blending it into a smooth consistency with a handheld electric blender. Season with a pinch of white pepper, if desired.
Return the pan to heat, and bring to a gentle boil. Stir in the cream, and mix well. Turn off the heat, and allow the soup to cool sufficiently before serving.
---
Now time to get back to the little ones! Thanks for stopping by.
See you soon,
Wendy
Comments? Ideas? Feedback? I'd love to hear from you. Just reply to this newsletter, and let me know what you think!
Mummy-Made Baby Food Home Page
---